It is built with stone, wood and forge, both inside as outside. It is of new building, respecting the environment that surrounds it, and occupies the place of and old big house. It has 3 floors, with access since the inside to the ground floor and by other street, to the first one.
On the ground floor is the garage (with capacity for 2 cars or 3 small), sink and a toilet.

On the first floor we have a wide fully equipped kitchen (hob, microwaves, washing machine, coffee machine and with all the tools you need), big living-dining room with firewood heater with fire, two double bedrooms and a full bath with shower. This floor has direct access to other street so although it is not adapted, it is totally accessible and practicable for disabled people.

And on the second floor we have two totally independent units.
Each one has two double bedrooms and a full bathroom with bath.
When the house is rented by bedrooms, only the customers of the first floor can use the kitchen.
KIND:
Casa Rural
CAPACITY:
12 + 1
RENTAL:
full / Bedrooms
LOCATION:
Population
PETS:
consult
DISABLED ACCESS: yes
EQUIPMENT AND SERVICES
Indoor kit
Heating, Garage, Pets (consult), TV in living room
Outdoor kit
Barbecue, Good views, Disabled people, Terrace
Pequeño patio con verja, dos terrazas pequeñas.
WHERE TO GO
Alcalá de Selva

Se haya situado en la Sierra de Gúdar, replegada en un rincón de la feroz y lírica Vega, entre el marco de un agreste paraje montañoso en perfecta armonía y rodeado por los montes de Santa Lucía, el P...
Dinópolis

Dinópolis is the largest area of ​​paleontological exhibition in Europe, as well as a fun and educational space that attracts thousands of visitors every year, from the most diverse corner...
Mausoleo Amantes de Teruel

The city of Teruel is linked to a medieval tradition of taste and romantic beauty: the Lovers. It is one of the most beautiful pages of love in the world, and has repeatedly been subject to its theate...
UPCOMING EVENTS
II Ruta Senderista y Trail - Griegos
En Teruel, 18 de marzo de 2020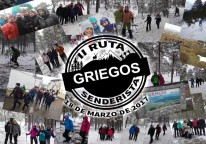 El sábado 18 de marzo de 2017 se celebrará la 2ª edición de la Ruta Senderista y Trail de Griegos con dos recorridos para ambas pruebas, una ruta de 16 km y otra de 12 km. Partirá a las 09:00 desde l...
ENVIRONMENT´S INFORMATION
El Castellar
It is located in the región of Gúdar-Javalambre of Teruel, located next to the river Valbona and which municipal term born the river Mijare. It is 10 km far away, in Cedrillas, there is a healthy center (24 hours), petrol station, restaurants, etc and just 20 minutes by car of Alcalá de la Selva. Its artistic heritage can be seen. The palace of the Ducal House of Medinaceli and the castle of Don Men Rodríguez or the tower Pallarés is superimpose forming an only monumental complex, and it includes in the tower the Museum of Iberian Art of the Exvoto. The House Díez is from the XVI century and it keeps plateresque façade with shield. The church of Encarnación is BIC and its façade is Baroque, while the tower bell, primitive watchtower, has been building between the XIII and XIV centuries. The ex-collegiate of Santiago is from the middle of XVII century. 5 km from the village in Loma de Montasinos, and next to the hermitage of the Consolación there is still the remains the bottom of a watchtower, called castle of Espinosa, in private property. There are hiking routes and enjoyment areas.
Tours
In the same village, there are two hermitages: St Barbara and the Virgin Pilar, both are from Baroque style and built in the XVIII century. One of them has leisure area with fountain, barbecue, benches and tables, excellent to spend a day outside. There is also a private castle.
the paths are very well designed and marked, such as the one which goes to Fuente del Tejo.
Activities
Horseback walks.
Ski on the tracks of Valdelinares (20 minutes by car from Alcalá de la Selva, by foot of the tracks).
Hiking.
Golf.
Important mycological area with great variety of mushrooms where the revollón highlights.
Fishing 20 km far from the reservoir of Balbona, where you can fish during the year trout, barbell and carp.